Exp-lookit-images-audio Class
These docs have moved here.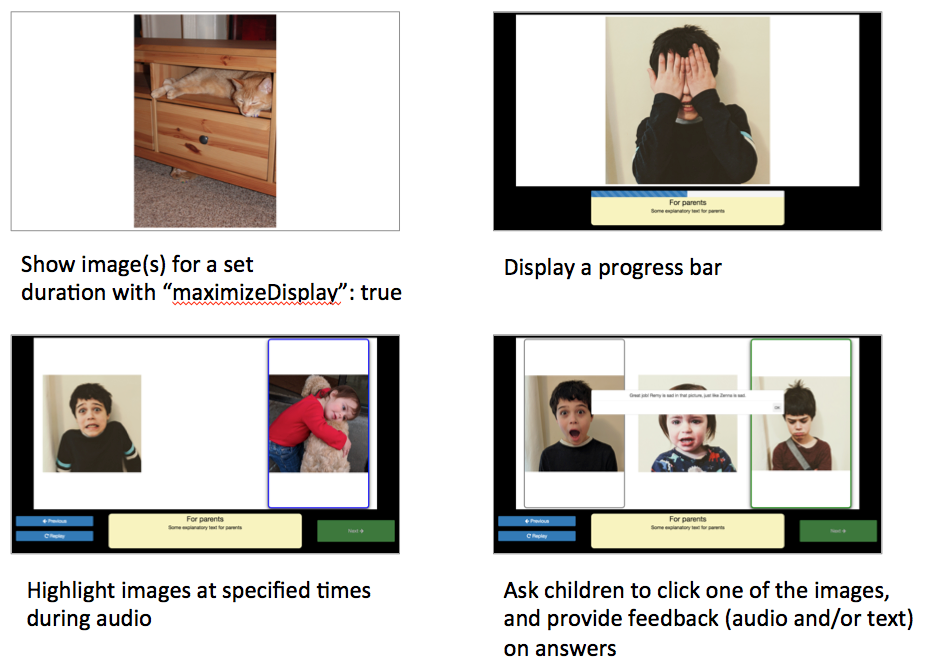 Frame to display image(s) and play audio, with optional video recording. Options allow customization for looking time, storybook, forced choice, and reaction time type trials, including training versions where children (or parents) get feedback about their responses.
This can be used in a variety of ways - for example:
Display an image for a set amount of time and measure looking time

Display two images for a set amount of time and play audio for a looking-while-listening paradigm

Show a "storybook page" where you show images and play audio, having the parent/child press 'Next' to proceed. If desired, images can appear and be highlighted at specific times relative to audio. E.g., the audio might say "This [image of Remy appears] is a boy named Remy. Remy has a little sister [image of Zenna appears] named Zenna. [Remy highlighted] Remy's favorite food is brussel sprouts, but [Zenna highlighted] Zenna's favorite food is ice cream. [Remy and Zenna both highlighted] Remy and Zenna both love tacos!"

Play audio asking the child to choose between two images by pointing or answering verbally. Show text for the parent about how to help and when to press Next.

Play audio asking the child to choose between two images, and require one of those images to be clicked to proceed (see "choiceRequired" option).

Measure reaction time as the child is asked to choose a particular option on each trial (e.g., a central cue image is shown first, then two options at a short delay; the child clicks on the one that matches the cue in some way)

Provide audio and/or text feedback on the child's (or parent's) choice before proceeding, either just to make the study a bit more interactive ("Great job, you chose the color BLUE!") or for initial training/familiarization to make sure they understand the task. Some images can be marked as the "correct" answer and a correct answer required to proceed. If you'd like to include some initial training questions before your test questions, this is a great way to do it.
In general, the images are displayed in a designated region of the screen with aspect ratio 7:4 (1.75 times as wide as it is tall) to standardize display as much as possible across different monitors. If you want to display things truly fullscreen, you can use autoProceed and not provide parentText so there's nothing at the bottom, and then set maximizeDisplay to true.
Webcam recording may be turned on or off; if on, stimuli are not displayed and audio is not started until recording begins. (Using the frame-specific isRecording property is good if you have a smallish number of test trials and prefer to have separate video clips for each. For reaction time trials or many short trials, you will likely want to use session recording instead - i.e. start the session recording before the first trial and end on the last trial - to avoid the short delays related to starting/stopping the video.)
This frame is displayed fullscreen, but is not paused or otherwise disabled if the user leaves fullscreen. A button appears prompting the user to return to fullscreen mode.
Any number of images may be placed on the screen, and their position specified. (Aspect ratio will be the same as the original image.)
The examples below show a variety of usages, corresponding to those shown in the video.
image-1: Single image displayed full-screen, maximizing area on monitor, for 8 seconds.
image-2: Single image displayed at specified position, with 'next' button to move on
image-3: Image plus audio, auto-proceeding after audio completes and 4 seconds go by
image-4: Image plus audio, with 'next' button to move on
image-5: Two images plus audio question asking child to point to one of the images, demonstrating different timing of image display & highlighting of images during audio
image-6: Three images with audio prompt, family has to click one of two to continue
image-7: Three images with audio prompt, family has to click correct one to continue - audio feedback on incorrect answer
image-8: Three images with audio prompt, family has to click correct one to continue - text feedback on incorrect answer
"frames": {
   "image-1": {
       "kind": "exp-lookit-images-audio",
       "images": [
           {
               "id": "cats",
               "src": "two_cats.png",
               "position": "fill"
           }
       ],
       "baseDir": "https://www.mit.edu/~kimscott/placeholderstimuli/",
       "autoProceed": true,
       "doRecording": true,
       "durationSeconds": 8,
       "maximizeDisplay": true
   },
   "image-2": {
       "kind": "exp-lookit-images-audio",
       "images": [
           {
               "id": "cats",
               "src": "three_cats.JPG",
               "top": 10,
               "left": 30,
               "width": 40
           }
       ],
       "baseDir": "https://www.mit.edu/~kimscott/placeholderstimuli/",
       "autoProceed": false,
       "doRecording": true,
       "parentTextBlock": {
           "text": "Some explanatory text for parents",
           "title": "For parents"
       }
   },
   "image-3": {
       "kind": "exp-lookit-images-audio",
       "audio": "wheresremy",
       "images": [
           {
               "id": "remy",
               "src": "wheres_remy.jpg",
               "position": "fill"
           }
       ],
       "baseDir": "https://www.mit.edu/~kimscott/placeholderstimuli/",
       "audioTypes": [
           "mp3",
           "ogg"
       ],
       "autoProceed": true,
       "doRecording": false,
       "durationSeconds": 4,
       "parentTextBlock": {
           "text": "Some explanatory text for parents",
           "title": "For parents"
       },
       "showProgressBar": true
   },
   "image-4": {
       "kind": "exp-lookit-images-audio",
       "audio": "peekaboo",
       "images": [
           {
               "id": "remy",
               "src": "peekaboo_remy.jpg",
               "position": "fill"
           }
       ],
       "baseDir": "https://www.mit.edu/~kimscott/placeholderstimuli/",
       "audioTypes": [
           "mp3",
           "ogg"
       ],
       "autoProceed": false,
       "doRecording": false,
       "parentTextBlock": {
           "text": "Some explanatory text for parents",
           "title": "For parents"
       }
   },
   "image-5": {
       "kind": "exp-lookit-images-audio",
       "audio": "remyzennaintro",
       "images": [
           {
               "id": "remy",
               "src": "scared_remy.jpg",
               "position": "left"
           },
           {
               "id": "zenna",
               "src": "love_zenna.jpg",
               "position": "right",
               "displayDelayMs": 1500
           }
       ],
       "baseDir": "https://www.mit.edu/~kimscott/placeholderstimuli/",
       "highlights": [
           {
               "range": [
                   0,
                   1.5
               ],
               "imageId": "remy"
           },
           {
               "range": [
                   1.5,
                   3
               ],
               "imageId": "zenna"
           }
       ],
       "autoProceed": false,
       "doRecording": true,
       "parentTextBlock": {
           "text": "Some explanatory text for parents",
           "title": "For parents"
       }
   },
   "image-6": {
       "kind": "exp-lookit-images-audio",
       "audio": "matchremy",
       "images": [
           {
               "id": "cue",
               "src": "happy_remy.jpg",
               "position": "center",
               "nonChoiceOption": true
           },
           {
               "id": "option1",
               "src": "happy_zenna.jpg",
               "position": "left",
               "displayDelayMs": 2000
           },
           {
               "id": "option2",
               "src": "annoyed_zenna.jpg",
               "position": "right",
               "displayDelayMs": 2000
           }
       ],
       "baseDir": "https://www.mit.edu/~kimscott/placeholderstimuli/",
       "autoProceed": false,
       "doRecording": true,
       "choiceRequired": true,
       "parentTextBlock": {
           "text": "Some explanatory text for parents",
           "title": "For parents"
       },
       "canMakeChoiceBeforeAudioFinished": true
   },
   "image-7": {
       "kind": "exp-lookit-images-audio",
       "audio": "matchzenna",
       "images": [
           {
               "id": "cue",
               "src": "sad_zenna.jpg",
               "position": "center",
               "nonChoiceOption": true
           },
           {
               "id": "option1",
               "src": "surprised_remy.jpg",
               "position": "left",
               "feedbackAudio": "negativefeedback",
               "displayDelayMs": 3500
           },
           {
               "id": "option2",
               "src": "sad_remy.jpg",
               "correct": true,
               "position": "right",
               "displayDelayMs": 3500
           }
       ],
       "baseDir": "https://www.mit.edu/~kimscott/placeholderstimuli/",
       "autoProceed": false,
       "doRecording": true,
       "choiceRequired": true,
       "parentTextBlock": {
           "text": "Some explanatory text for parents",
           "title": "For parents"
       },
       "correctChoiceRequired": true,
       "canMakeChoiceBeforeAudioFinished": false
   },
   "image-8": {
       "kind": "exp-lookit-images-audio",
       "audio": "matchzenna",
       "images": [
           {
               "id": "cue",
               "src": "sad_zenna.jpg",
               "position": "center",
               "nonChoiceOption": true
           },
           {
               "id": "option1",
               "src": "surprised_remy.jpg",
               "position": "left",
               "feedbackText": "Try again! Remy looks surprised in that picture. Can you find the picture where he looks sad, like Zenna?",
               "displayDelayMs": 3500
           },
           {
               "id": "option2",
               "src": "sad_remy.jpg",
               "correct": true,
               "position": "right",
               "feedbackText": "Great job! Remy is sad in that picture, just like Zenna is sad.",
               "displayDelayMs": 3500
           }
       ],
       "baseDir": "https://www.mit.edu/~kimscott/placeholderstimuli/",
       "autoProceed": false,
       "doRecording": true,
       "choiceRequired": true,
       "parentTextBlock": {
           "text": "Some explanatory text for parents",
           "title": "For parents"
       },
       "correctChoiceRequired": true,
       "canMakeChoiceBeforeAudioFinished": false
   }
}