Exp-lookit-instructions Class
These docs have moved here.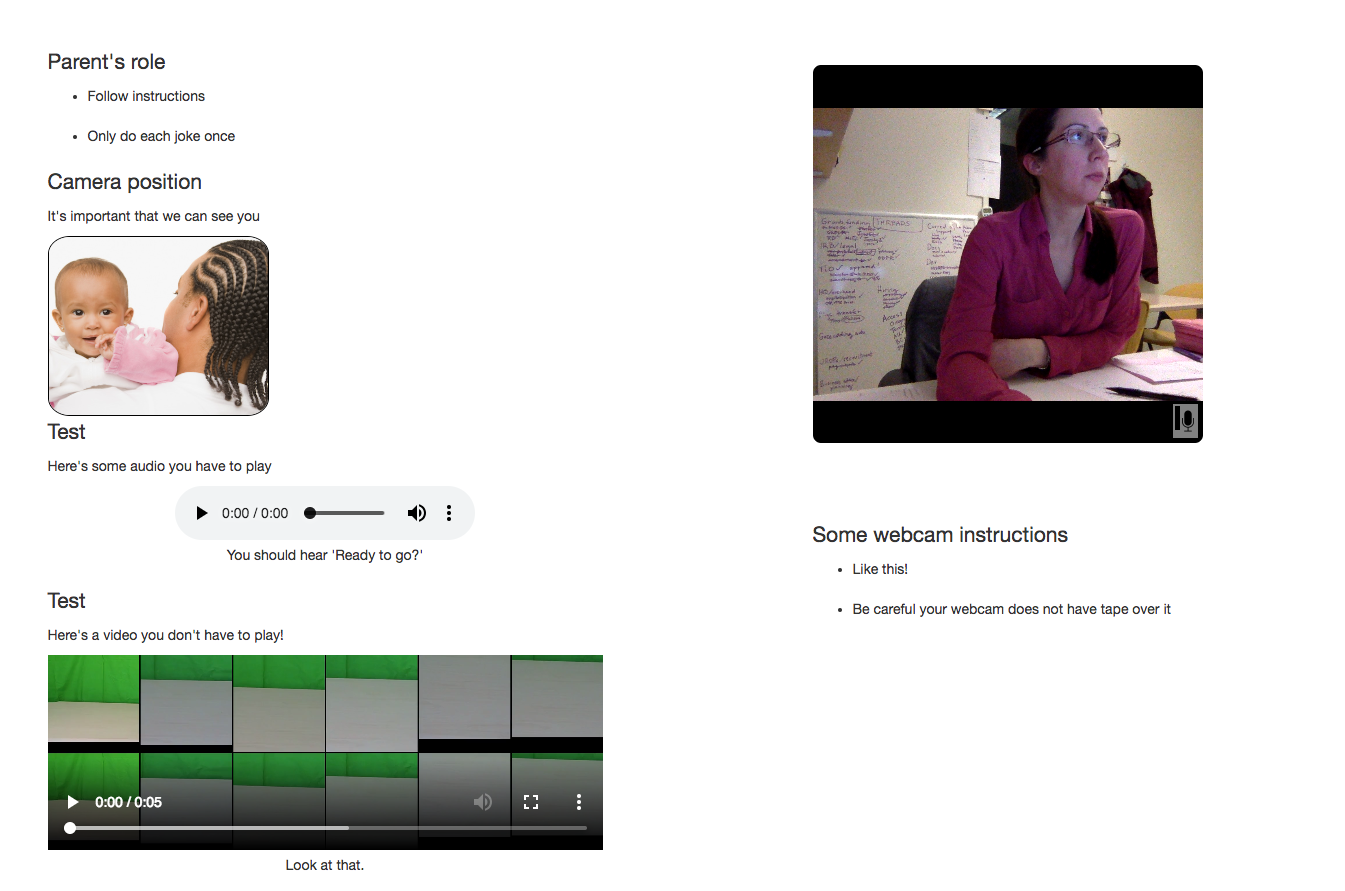 A frame to display instructions to the user. The user's webcam may optionally be displayed, and audio and video clips may be included in the instructions (and may be required to be played before moving on).
Each element of the 'blocks' parameter is rendered using Exp-text-block.
"frames": {
       "instructions": {
           "kind": "exp-lookit-instructions",
           "blocks": [
               {
                   "title": "Parent's role",
                   "listblocks": [
                       {
                           "text": "Follow instructions"
                       },
                       {
                           "text": "Only do each joke once"
                       }
                   ]
               },
               {
                   "text": "It's important that we can see you",
                   "image": {
                       "alt": "Father holding child looking over his shoulder",
                       "src": "https://s3.amazonaws.com/lookitcontents/exp-physics/OverShoulder.jpg"
                   },
                   "title": "Camera position"
               },
               {
                   "text": "Here's some audio you have to play",
                   "title": "Test",
                   "mediaBlock": {
                       "text": "You should hear 'Ready to go?'",
                       "isVideo": false,
                       "sources": [
                           {
                               "src": "https://s3.amazonaws.com/lookitcontents/exp-physics-final/audio/ready.mp3",
                               "type": "audio/mp3"
                           },
                           {
                               "src": "https://s3.amazonaws.com/lookitcontents/exp-physics-final/audio/ready.ogg",
                               "type": "audio/ogg"
                           }
                       ],
                       "mustPlay": true,
                       "warningText": "Please try playing the sample audio."
                   }
               },
               {
                   "text": "Here's a video you don't have to play!",
                   "title": "Test",
                   "mediaBlock": {
                       "text": "Look at that.",
                       "isVideo": true,
                       "sources": [
                           {
                               "src": "https://s3.amazonaws.com/lookitcontents/exp-physics-final/examples/7_control_same.mp4",
                               "type": "video/mp4"
                           },
                           {
                               "src": "https://s3.amazonaws.com/lookitcontents/exp-physics-final/examples/7_control_same.webm",
                               "type": "video/webm"
                           }
                       ],
                       "mustPlay": false
                   }
               }
           ],
           "showWebcam": true,
           "webcamBlocks": [
               {
                   "title": "Some webcam instructions",
                   "listblocks": [
                       {
                           "text": "Like this!"
                       },
                       {
                           "text": "Be careful your webcam does not have tape over it"
                       }
                   ]
               }
           ],
           "nextButtonText": "Next"
       }
}